One of my greatest joys and privileges in my "other life" as an assistant editor at Dark Horse Comics has been working on the superhero comic X. One of the most successful characters (along with Ghost) that Dark Horse created during the heady years of the mid-1990s, X is an archetypical vigilante antihero – a borderline-insane bruiser with a fanatical zeal for enforcing his own law in the nearly lawless city of Arcadia. The comic was re-launched in 2012 with a (slightly) more grounded, 21st-century recession vibe, but it's still a gleefully violent mess.
This scene I illustrated is from X #12, my favorite issue of the current run, in which mob boss Carmine Tango lures X into a triple-trap where he's ganged up on by Gamble, a swaggering, luck-obsessed hitman, Deathwish, a suicidal maniac obsessed with X's punishment, and Tango's own lethal secretary, Ella. X loses this fight BIG TIME!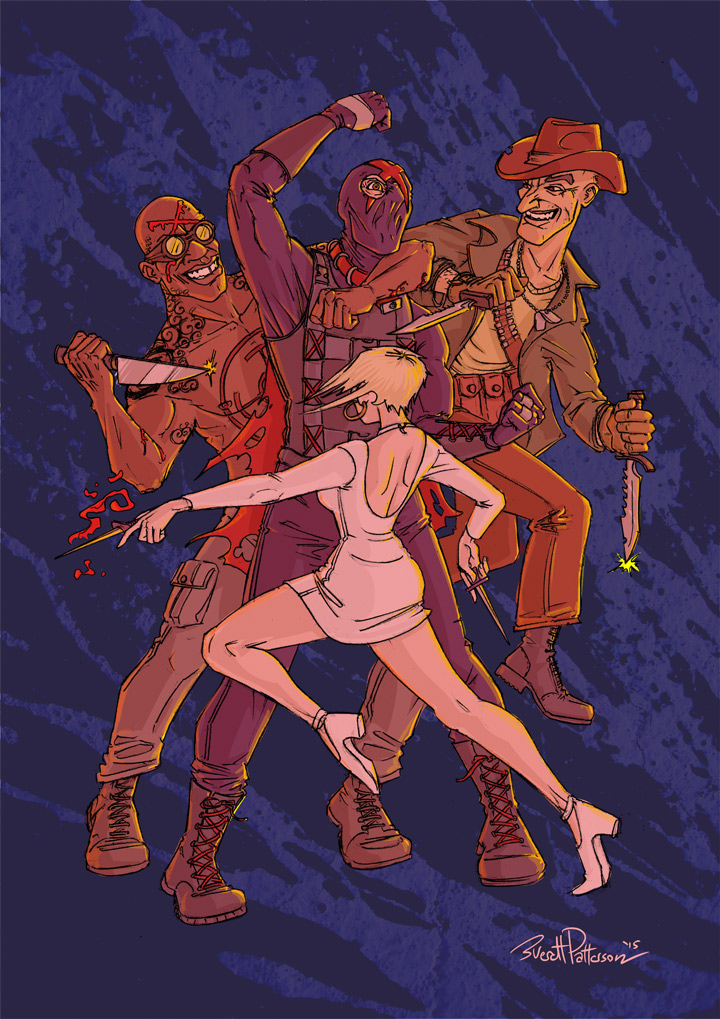 I kinda pushed outside my "comfort zone" for this illustration. Realistic proportions don't come easily to me, and most of my characters end up about six or seven heads tall instead of the standard superhero eight. I also tend to drape my characters in baggy clothes, which disguise those parts of muscular anatomy that I've never really learned. The jumble of sixteen different limbs was actually really hard to arrange without creating tangencies. If I had to do it all over, I'd try to compose a more daring angle, with more foreshortening – as it is, the figures look a little too parallel to the plane of the page. But with all those caveats, I'd say it's not bad for my first true "superhero" drawing.